Join us in supporting educational excellence when you participate in MEF's 2021 Annual Appeal.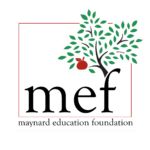 Proceeds benefit MEF's grant program that funds enrichment activities, pilot initiatives, new materials, or professional development opportunities for Maynard Public School students and staff.
Thanks to your support, since September, MEF has awarded over $5,700 in grants that benefit Green Meadow, Fowler, and Maynard High School students.
We need your help to continue to fund new learning opportunities in the Maynard Public Schools.
Be one of the first 50 donors to help us meet our participation goal! All donations are appreciated and no amount is too small to make a difference to a Maynard Public School student or staff member.
Bonus! Donations of $100 or more will receive a gift card to one of the 2021 Restaurant Appreciation Week or Taste participants.