MEF's 2022 Annual Report Available!
MEF is delighted to share our Annual Report with you!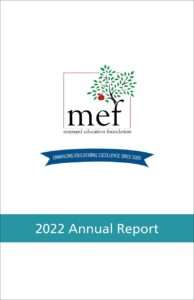 We hope you will enjoy reading stories about the impact of recent MEF grants – enhancing our students' experience in and outside of the classroom, enriching the school curriculum, funding continued learning for our educators, and providing students with new learning opportunities. None of this work would be possible without you — our supporters, MPS teachers and staff, our donors, and many contributors – thank you!
Special thanks to Purple Pear Design and to Ink Etc. Marketing for all of their hard work on this year's Annual Report and for their ongoing support.
As we head into spring – we look forward to funding new grants for pilot programs, enrichment activities, materials and resources, and professional development activities.
Applications are reviewed on a monthly basis from Sept 1 – April 15th, or until MEF funds have been depleted. Please contact mefgrants@gmail.com or 978.938.4262 with any questions.