Thank you to the individuals, corporate sponsors, and community members who participated in MEF's 2021 Annual Appeal!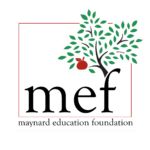 Proceeds from this year's Annual Appeal will be used to benefit MEF's grant program that funds enrichment activities, pilot initiatives, new materials, or professional development opportunities for Maynard Public School students and staff.
Thank you for your generous support! We are proud to be part of a community that values advancing educational innovation in our schools.