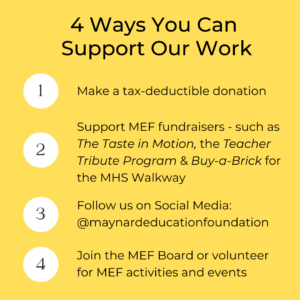 MEF has provided the Maynard community with the opportunity to have a direct impact on the quality of our schools since 2001.
Whether it be project seed money, professional development opportunities, enrichment activities, or materials for new initiatives—a gift to MEF is an investment in our schools!
There are lots of ways you can support MEF — including participating in the Annual Appeal, Teacher Tribute Program, purchasing a commemorative brick for the MHS walkway, or by making a charitable donation.
Thank you!